Allison Miller at Bart's Place

Bart Exposito had another opening for a one-day-show on his one-wall-ocassional gallery, the big and biggest wall in his palace of a studio on Chung King Road.
Altruistic, he is.
This time, Allison Miller is on deck.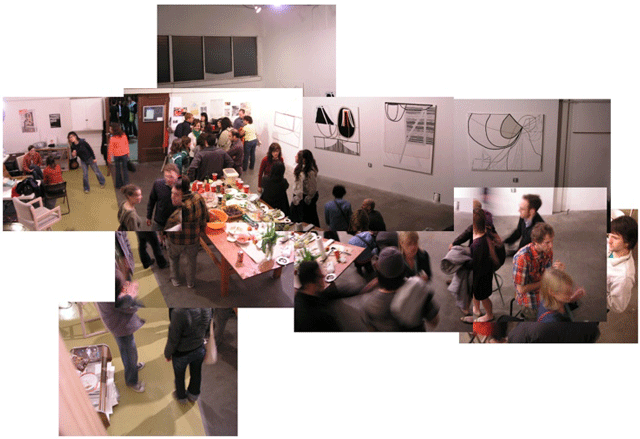 I heard that Allison is an artist a few years out of school and that she was amassing interesting work away from the hubub of the art scene machine hustle.
Bart felt her work needed to be seen, therefore this show.
***
SIDENOTE:
Kismet follows its' own rule, People. So please don't bug Bart for a show. Bart isn't running a gallery.
Thankyouverymuch.
***

There's an notion in the air that the whole idea in and around exhibitions in our art world is totally (vernacular engine deployed) up for grabs whether it be putting out announcements and leaving it at that, dethroning the formality of presentation, flexing ideas for what physically constitutes an exhibition space, detaching propietary agency from location (the virtual, thus portable nature of a branded identity)... I could go on but I don't feel like essayin'. (vernacular engine off.)
(I was going to go off like this: "The deal is that you've got to protect some animating spark, a kind of soul of art itself however variously embodied in an artworld. Ideas come and go and most times the test of the potency of an idea is whether it can sustain the energy needed to mount a show. Against this, a ponderous wolrd of..."
-then I thought better of it. Let's return to Allison's paintings.)

Squares and lines and stripes and landscapes like Hockney and dazzling eyes like Peter Max and Matt Groening robot surveillance eyes and vortexes and all those monochrome dyptich guys and that guy at Blum and Poe who paints kaliedescopic vortexing geometries and prayer shawls and stuff.

This is the painting that Bart copied for the announcement. Inspired, he was.

Lasker. I feel all Laskery. I've got that Lasker feeling.
I wonder how she is approaching her paintings.
Lasker's peculiarities come from stationary store media (markers and index cards). A displacement tactic like fotos displace paint in Richter. Or is she direct in relation to her composition the way my friend Joanne Greenbaum is doodling on the grandiose scale of big art . (A shout out to you, Joanne! Only good intentions here with the doodle reference!) Or does Allison do a displacement tactic like Jeff Elrod does: computer to paint, a Richter on steroids in that way (fotos as they were -chemical emulsion are flat inert 2D surfaces, an artist scales up with grids or projects the image to scale up... when a foto is digital, pixels are assigned through software, a substrate that is an architectural empire of information.
I feel all Agnes Martiny now.
(It's interesting to compare this detail with the detail of Bart's announcement at the top of this blogpost. )
Posted by Dennis at
1:28 PM
|
Comments (0)