retinariver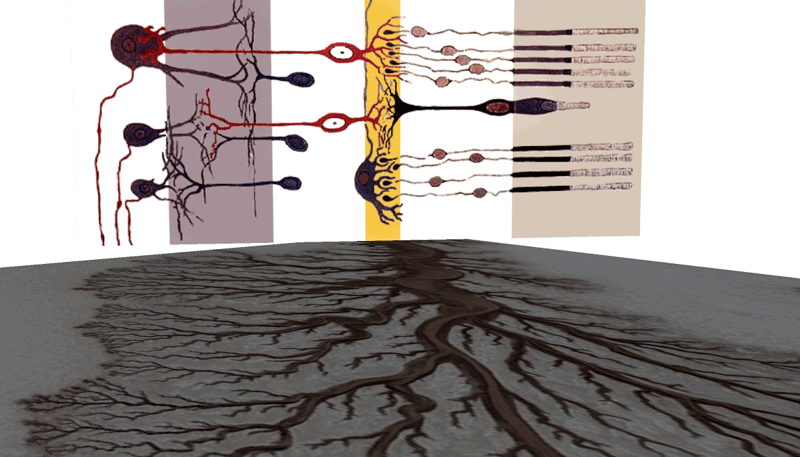 The eye is the brain. Light shines through neurons before it is detected and interpreted at an early stage before further processing at higher levels in the brain, proper.
Proper?
Rods, cones and nerve layers in the retina. The front (anterior) of the eye is on the left. Light (from the left) passes through several transparent nerve layers to reach the rods and cones (far right). A chemical change in the rods and cones send a signal back to the nerves. The signal goes first to the bipolar and horizontal cells (yellow layer), then to the amacrine cells and ganglion cells (purple layer), then to the optic nerve fibers. The signals are processed in these layers. First, the signals start as raw outputs of points in the rod and cone cells. Then the nerve layers identify simple shapes, such as bright points surrounded by dark points, edges, and movement. (Based on a drawing by Ram?n y Cajal.)
(Emphasis Mine.)
Bight points surrounded by dark points.
Edges.
Movement.
Posted by Dennis at
6:28 PM
|
Comments (0)
El Perro

We are coming to a completion of the monotype project at Cirrus Editions. I'm titling it "El Perro", after Goya. The paper is 38"x50", and we will probably cut it down a little bit in a crop for a deckles edge. Edition of 26, composed from lithographic press, silkscreen and ink jet print.
Posted by Dennis at
2:45 PM
|
Comments (0)
Painting

infectious
#404
2012
60"x48"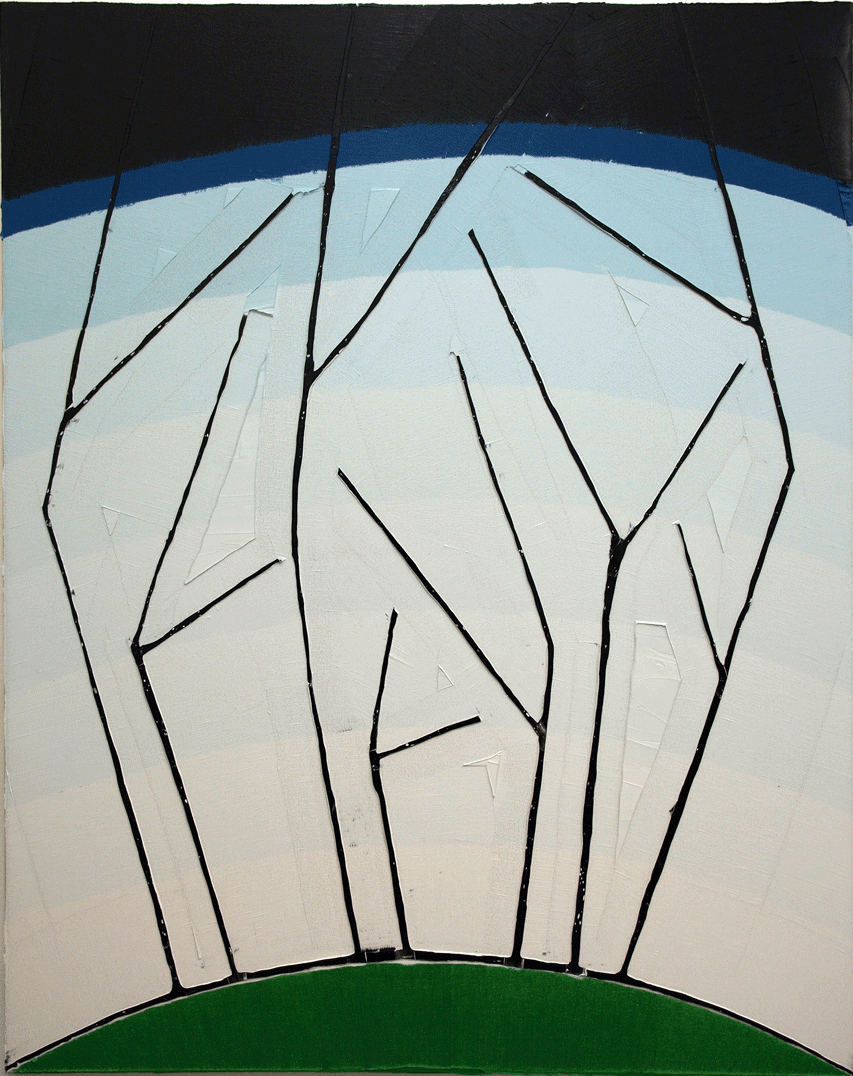 Posted by Dennis at
11:50 AM
|
Comments (0)
The Basque Painthers

Back in early December, I met a group of young talented painters from Spain via Ana Revilla (who is not pictured above, by the way... the woman in the foto is Roberta Morris, the director of the project), a curator from Zaragoza who has been establishing her activities here in Los Angeles recently. Ismael Serrano, Fermin Moreno, and Aitor Larjarin were awarded a commission to paint a mural on the side of Barnsdall Park. I attended their inauguration, and I wanted to blog the event but the fotos that I took were not up to snuff, so I demurred. Today I ran across Ismael's FaceBook report of their Issuu publication on their project, which you can see in the embedded magazine below.
Wonderful, interesting folks, all. All three artists are from Bilbao. Aitor moved to LA some time ago, and now he is an Angeleno. Recently, he has been accepted to grad school at UC San Diego. Fermin and Ismael are living in Basque country, where I hope to visit them someday soon.
Check out Ismael's Issuu publication bookshelf here, Fermin's bookshelf here, and Aitor's here.
UPDATE: As for "Painthers", I commented this on Ismael's FB page: "Your moniker, "painthers", is this intentional? As poetry, it takes my mind to Black Panthers, Basque Panthers, Panteras Vasco..."
Posted by Dennis at
11:48 AM
|
Comments (0)
Painting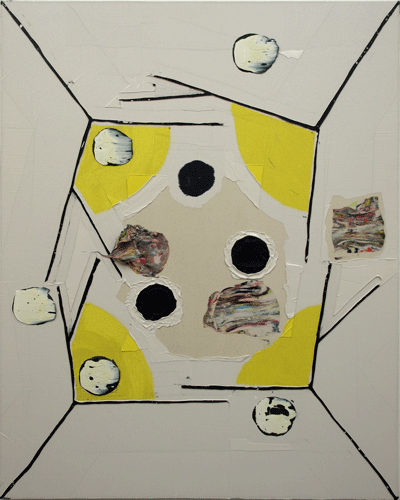 Plasma Indirection
#402
2012
60"x48"
Posted by Dennis at
11:48 AM
|
Comments (0)