November 28, 2016
Old mediocrities / are fashionable / new ones too

Apropos of the Picabia show at MoMA, Francis Picabia: Our Heads Are Round so Our Thoughts Can Change Direction
Through March 19, 2017. I feel fortunate to have seen the Duchamp, Man Ray, Picabia exhibition in 2008 at the Museu Nacional d'Art de Catalunya, Barcelona (originating from the Tate Modern). A great catalog. A must-read prior to seeing the show at MoMA. You can find it here.
Reading editor Jennifer Mundy's essay, "The Art of Friendship", Picabia's poem jumped out at me. It was written towards the end of his life:

Perhaps I have made
painting ill
but what a pastime
to be a doctor

tomorrow I shall count on painting
to be my doctor [...]

Everything I do hurts my own interests
I don't know any other way
of dealing with myself

The profound mediocrity
of painters
depresses me

Old mediocrities
are fashionable
new ones too

Knowing my strength
I am tolerant of myself
and nothing is forbidden to me anymore

I have felt painting
as an object of passion
my paintings are acts of love
that's my way of working
-Francis Picabia, Oui Non 1953
Francis Picabia, Ecrits II:1921-1953
et posthumes, ed. Olivier Revault
d'Allones and Dominique
Bouissou, Paris 1978, p.342.
Posted by Dennis at
4:01 PM
|
Comments (0)
November 16, 2016
The Anthropic Viewpoint

Here's a shout out to the anthropocene, discussed in the Art and Nature at CPI blogpost.
Source: I just fell into this rabbit hole. Fun stuff!
Posted by Dennis at
10:28 PM
|
Comments (0)
Details, Details.
Posted by Dennis at
3:11 PM
|
Comments (0)
Review Panel
Review Panel convened again this fall at the Brooklyn Public Library. Hosted by Art Ctritical, moderated by David Cohen, I never tire of praising it as one of the best forums in the NYC art world. Guest critics last night included Zoë Lescaze, Nancy Princenthal and Christian Viveros-Fauné.
This Review Panel featured two museum career retrospectives, a break from the usual format of 2 x 2 gallery exhibitions. The promise fulfilled was a deeper dive into a critique of the art in question, an excellent night.
Kerry James Marshall: "MASTRY" at The Met Breuer.
Marilyn Minter: "Pretty/Dirty" at the Brooklyn Museum.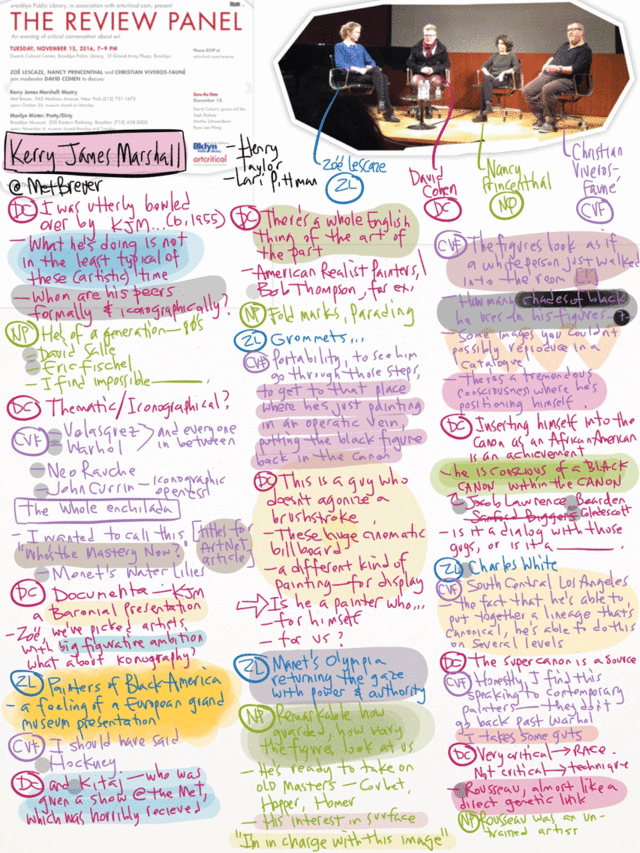 Posted by Dennis at
1:01 PM
|
Comments (0)
November 14, 2016
What Ancient Languages Sound Like
Posted by Dennis at
10:26 PM
|
Comments (0)
Art and Nature at CPI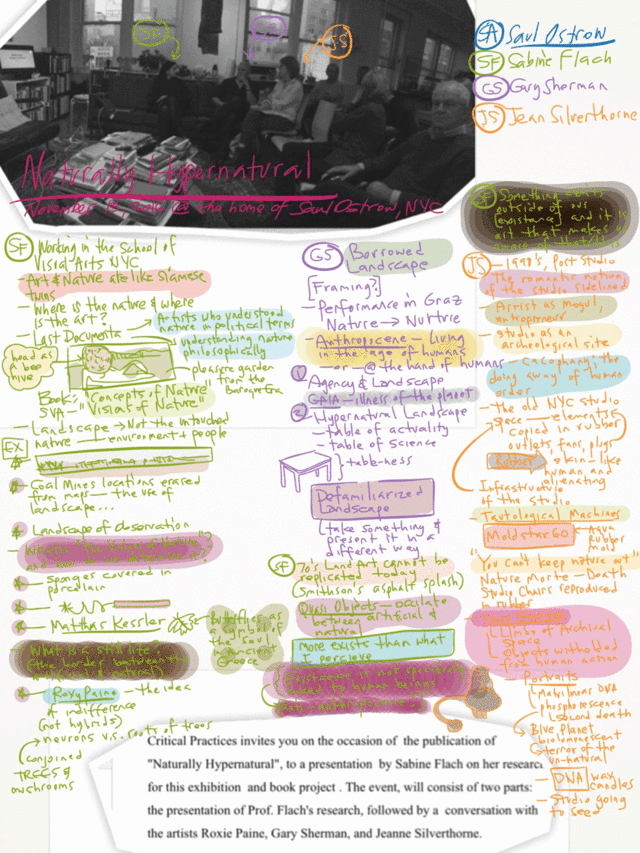 Last night, Critical Practices Inc. hosted a lecture and discussion on the occasion of the publication of "Naturally Hypernatural", featuring a presentation by Sabine Flach on her research for this exhibition and book project , followed by presentations by artists Gary Sherman, and Jeanne Silverthorne.
As you can read in my notes above, the ideas circulated around the problem of nature as solely defined by humankind. As I listened, I thought of the philosophical thought experiment If a tree falls in a forest and no one is around to hear it, does it make a sound?. To my ear, it was clear that the participants would say unequivocally "YES!" Ideas swirled around the idea that nature could persist outside of human perception, and the anchor was the notion of the anthropocene, the epoch of human impact on the earth. The examples of art discussed were exclusively preoccupied with the de-centered author, and the various ways an artists' agenda could be dissolved into a manifold array of systems both social and environmental.
Entropic humanity, a cream stirred into the coffee of existence.
But how did the cream come into existence in the first place?
I understand and value the claim to the virtue of selflessness. The critique of the arch individualism led to the demise of a high modernism that had winked itself out in a greedy all consuming singularity. The academy's imagination has since traveled far into this direction, dreaming and longing now of what the world might look like without human presence. But who would be finally doing the looking? And what exactly is the moral character of the thought that actively and achingly desires the erasure of humanity? The Puritans thought themselves virtuous too, after all. As the presentation proceeded, listening to the repetitive claims to virtue, my thoughts wickedly drifted to the possibility of a counter theme of the order of a Les Fleurs du mal, contrary voices that might call out all that is marginalized in this chorus of what must be called righteousness.
***
Am I a bad man?
What is virtue?
Does kindness require theory?
***
Of course, I listened sympathetically as possible, given that I had questioned fundamentally the idea of the death of the author and the death of painting, centering as I have had for all my years as an artist who looked for the unlimited-in-the-limited-set of pigments and canvas. What I had learned last night was that the agenda of the academy has not changed much in character and content in the past twenty five years since I left graduate school. What could be said to be different in all that time was the intensity of filigree of it all... and filigree itself is a fascinating phenomena.
Posted by Dennis at
3:27 PM
|
Comments (1)
not merely retinal

not merely retinal
2016
#534
18"x12"
Oil on Canvas
Posted by Dennis at
3:22 PM
|
Comments (0)
November 8, 2016
Talk with Doug Melini at 11R
Last Sunday, November 6th, 11R (Eleven Rivington Gallery) hosted a talk with Douglas Melini on the occasion of his exhibition YOU HAVE TO PEER INTO THE SKY TO SEE THE STARS:
ARTISTS IN CONVERSATION:
DOUGLAS MELINI, BRIAN ALFRED & DANIEL S. PALMER
(I'll paste their bio's below the fold.)
Doug and I go back many years. He looked me up in Los Angeles after he graduated from CalArts and had a studio in LA for a few heartbeats before he eventually moved to NYC. He was one of the first young artists to seek me out when I was first gaining some steam in the 90's, and we traded studio visits for a time. Now that we are again in the same city after all this time, I'm gratified to see that we have evolved parallel paths in our painting practice. Both of us in different ways balance control of edge and repose against the explosion of gesture and liquidity... or, as Robert Hughes wrote of the Catalans, Rauxa and Seny.
Here are the biographical descriptions that came with the email:

Douglas Melini (born 1972) was educated at CalArts, LA, and the University of Maryland, College Park; he currently lives and works in New York. Previous solo exhibitions include 11R, NY (2014); Feature Inc., NY (2012); The Suburban, Oak Park, IL (2011); Minus Space, Brooklyn (2009); a White Room at White Columns, NY (2003); and Richard Heller Gallery, Santa Monica (1998), among others. His work has been reviewed and featured in The New York Times, The New Criterion, Time Out, and New York Magazine.

Brian Alfred is an artist, musician, and curator based out of Brooklyn, and has shown his work internationally for the past seventeen years. Alfred is the recipient of an American Academy of Arts and Letters Purchase Award, the New York Foundation of the Arts Inspiration Award, and the Pollock-Krasner Foundation Grant. He is an alumnus of Yale, Skowhegan, and Penn State. His work is in the collections of institutions such as the Solomon R. Guggenheim Museum, the Whitney Museum of American Art, and the San Francisco Museum of Modern Art, among others. Alfred is also the creator and host of the Sound & Vision podcast, which features conversations with contemporary artists and musicians.

Daniel S. Palmer is currently an Associate Curator at the Public Art Fund. Previously, as the Leon Levy Assistant Curator at the Jewish Museum, New York, Palmer co-curated exhibitions such as Unorthodox and Repetition and Difference, curated Masterpieces & Curiosities: Diane Arbus's Jewish Giant, and oversaw the Masterpieces & Curiosities series of intimate exhibitions curated around a single work from the museum's permanent collection. Independently, Palmer has curated exhibitions including Lucas Samaras Pastels, at Craig F. Starr Gallery, New York (2013), and co-curated Decenter: An Exhibition on the Centenary of the 1913 Armory Show, with Andrianna Campbell at Henry Street Settlement's Abrons Arts Center (2013), among others.
Posted by Dennis at
6:48 PM
|
Comments (0)
MASK
Posted by Dennis at
6:46 PM
|
Comments (0)