Exegesis

In 2012, I discovered the frightening reality that the titanium white that I had relied on (manufacturer Daler-Rowney Georgian, whose 225ml tubes of linseed oil based paint were available at the best price due to the volume of paint I typically deploy) became defective. The problem was a separation of oil and pigment that caused the white to eventually weep tears down my canvases. After a number of years after repairing a number of problematic paintings and assessing my inventory, I estimate that approximately 30% of my paintings prior to that year and only for an uncertain bracketed time frame... this I say because I estimate that the problem of manufacture is probably due to occasional defective batches of production. I observed no specific pattern of failure, only that it occurs when I rely on the dominance of white or colors tinted heavily with white, which is rare for me -again in no specific pattern. Sometimes in the same painting, an instance of white pigment will be fine, juxtaposed to another which is not... and again, in only a fraction of the paintings that I had produced prior to 2012.
It was a game of whack-a-mole. I had travelled far and wide to repair paintings on site, sometimes, I had them sent to me to repair in my studio. I consoled myself with the calculation that the number was finite, and focused determination would narrow the impact over time as numbers reached toward zero. I clung grimly to professional optimism as a shield against the horror that this defect could threaten to dissolve the oeuvre that I have dedicated my life to creating.
The good news: the problem has only manifested in titanium white, and not all of it. After 2012, I found a solution in a manufacturer of a walnut oil based titanium white created by Robert Doak in DUMBO, Brooklyn. Walnut oil dries clearer than linseed oil, but it dries much more slowly. As you can see in the image above of one of my tests, I found that a 80/20% mixture results in a faster drying impasto paint that has proven itself to be clear of the problem after five years of observation.
All in all, it was harrowing. But I had survived it, and I began to take some lessons and even some inspiration that has been exerting itself in the art work that I have been making in the past year. What follows is a letter that I had recently sent to a friend, explaining the outlines of it all.
***
Hello XXXXXX,

Thanks for asking!
After a period of disappointment (years?), I noticed two things. One, the "tears" actually improved some paintings and two, the Spanish ham hanging to cure had a nice response to escaping oil.  
Cups!

I had a couple or more paintings hanging in my house in Spain that wept.  I liked them better for it, the tears added a touch of character. Sometimes, when I had to tear off a canvas and repaint it completely, I rather liked the shroud that resulted from it. [You can see an example of it here.]
Connections to Picasso's Weeping Women (charge of emotion!), Japanese wabi sabi (accepting imperfection) and invoking the Duchamp Broken Glass prerogative (to accept incident and accident even after the work was "done") didn't hurt.  
So I thought I would go with the break.

The most epic scale of this is hanging in my dining room in Tossa.  You'll need a handkerchief.

It would take the most special collector to accept this as a solution, but I still hold out hope!
Maybe it was that wire work that helped steer me in the direction of reimagining how to make a support.  Before I left Spain last summer, I started to move in the direction of making a painting support that was lighter and whose elements were as plastic as the paint that I was putting on them.  Since I'm invoking the authority of precedent, let's drop Robert Ryman, who declared all elements of painting -including support as expressive art material- all the way to the nail in the wall....  ...and wait!  There's more!   Gaudi's Baldachin* (his hanging construction halo over the altar in the Sagrada Familia  and the cathedral in Mallorca is an expressive wonder, made of canvas and wrought wire and lighting pendants that remind me of the paper cups.
I had little time in my studio in Tossa to develop this direction, but I noticed the quirk of working in wire (Calder!): a material known for tensile properties, it also had a tiny compressive value (sorry, the architect in me is chirping)... and canvas can be welded fiercely with hot glue.  The fabrication is super bricolage (Euro do-it-yourself, a term made fancy in USA art theory), a sensibility closer to paint handling itself.  I felt I was onto something, but the next step had to wait until I got back to my studio in Brooklyn.

This is the first painting last Fall, once I got back to NYC.   I had a tube of the bad paint on hand and the cups were placed for the anticipated moment in the future when the tears would flow.  But I knew that this is artifice, the strategy had no legs.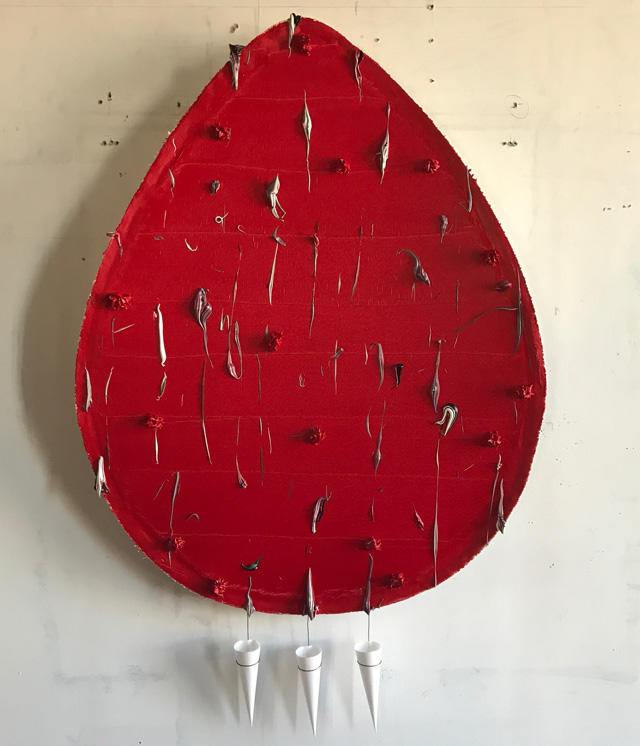 The next painting simply commemorated the weeping, but the red pigment has never wept.  The cups were mere decoration.  So I focused on the wire + canvas construction and the formal variations that I could extend.
A sampling:

A wrap around.

A sphere.  I have an animated gif in my blog that renders this better than a static image.

A multiverse.

A peek behind the multiverse.
The question right now is how (and why?) to mix/shuffle the support with the supported.  I did this a little bit here:

This one is a super-externalization of the support.

And to end this looooong missive, here's a painting currently in progress.  The cups are back because I'm using a fragment of a weeping painting that I had pulled off the support years ago.  I trimmed off a choice piece and kept it around because I couldn't bear to toss it out.  So last week, I was wondering how to push the paint surface deeper into the support and this fragment was on the shelf, beckoning me.  Since that piece is of the weeping era, the cups are quite functional.
So that's the story of the influence and evolution of the cup of tears!

-Dennis

*PS:  I have to append my small tribute to Gaudi's Baldachin.  I hope to make a 20' version of it someday...

Posted by Dennis at
1:49 PM
|
Comments (1)