A Snorkel to Cap Tossa

I'll have to admit to a bit of self indulgence in posting almost 30 minutes of a snorkeling selfie... but the ostensible-yet-genuine point is the outward POV from the homemade selfie stick that I had fashioned last summer.
Here's what I mean...

The Pyrenees, plunging into the Mediterranean. I snip from the web:

The rocks here were mashed up when the Pyrenees were formed, and are mostly metamorphic schists which turn a lovely golden colour in the Mediterranean sun.

On top of that, this is one of the wildest spots on the Costa Brava in the winter (Costa Brava means "wild coast") , and the migmatites and schists have battered and eroded by the Tramuntana wind and a sea that can look as if it is boiling in the strong winds.

(A migmatite is a type of rock that formed under extreme pressure and temperature: a partial melt. Migmatites are halfway between an igneous and metamorphic rock. A schist is a medium grade metaphorphic rock that has been squashed into flakes or slabs. Schist is derived from the Greek meaning "to split").

Interspersed within this mash of schist is dazzling white blocks of pegmatite- basically molten rock that percolated up through the gaps in the rock at the end of the "orogeny" or mountain building.
And the flora and fauna swarming over the migmatites and schists? Here you go:


Keys to the kingdom.
Posted by Dennis at
7:47 AM
|
Comments (0)
Crystal Bob

"Crystal Bob"
#562
60"x30"x30"
Oil on Canvas
2018
Posted by Dennis at
12:23 AM
|
Comments (0)
montaña-mar

"montaña-mar"
#561
200x150cm
Oil on Canvas
2018
Posted by Dennis at
12:19 AM
|
Comments (0)
mar-montaña

"mar-montaña"
#560
200x150cm
Oil on Canvas
2018
Posted by Dennis at
12:17 AM
|
Comments (0)
how the sun set that day
"how the sun set that day"
#559
42"x18"x12"
Oil on Canvas over Wire and Wood
2018
Posted by Dennis at
12:14 AM
|
Comments (0)
Reverse Bataille
1. Bataille is a marvel. Early modernist transgression. His education started in the seminary and ended in Medieval manuscripts, numismatics and advance Spanish studies in Madrid. A slice of his Wikipedia page: "Bataille is the author of a large and diverse body of work: readings, poems, essays on innumerable subjects (on the mysticism of economy, poetry, philosophy, the arts, eroticism)." Without much foundation of research to say so, I tend to think of his as one who allegorized the impact of collage in modern art. The fragmentation of society is a prime signature of modernity, and Bataille was one of the first to reckon with it.
2. From my notes after reading
his Wikipedia entry
, specifically the sections on "The Accursed Share" (one of his key concepts after "Base Materialism"):
[Frivolity and excess is a better alternative to war. Analyze excess energy.] [The world is at war, better to fuck.]
And after
reading his page about "Acephale"
:
It begins with the economy. See Potlatch.

Critique follows:
-Are/Is war and fucking, two sides of the same coin?
-War begins long before the physical fight. In other words, bellicosity at its root must be confronted... or according to Bataille, bellicosity must defer to simple and direct carnality.
-His classical, restrictive and general economies. His "Accursed Share" = excess economy. Do they exist?
-A philosophy of the helpless?
-A critique of transgression: the shark jumped.
-The economy...
Isn't there more work to do to maintain the world? Isn't frivolity the root of instability and war?

Pre-conception/Post-rationalization(?):
REVERSE BATAILLE
How would Acéphale work in reverse?
Navigate around Frankenstein
Can a head be grown?
3. Snip from Wikipedia:
Fascinated by human sacrifice, he founded a secret society, Acéphale, the symbol of which was a headless man. According to legend, Bataille and the other members of Acéphale each agreed to be the sacrificial victim as an inauguration; none of them would agree to be the executioner. An indemnity was offered for an executioner, but none was found before the dissolution of Acéphale shortly before the war. The group also published an eponymous review of Nietzsche's philosophy which attempted to postulate what Derrida has called an "anti-sovereignty". Collaborators in these projects included André Masson, Pierre Klossowski, Roger Caillois, Jules Monnerot, Jean Rollin and Jean Wahl.
Upshot of what's happening in my studio: Transgression has come to an impasse ("...jumped the shark"). Sticking it to the man won't stick anymore. And the man has become the canon itself... that is, the force that sought to overturn the canon became another canon in turn. We took irony for granted when we considered ourselves masters of it. Bataille's contribution is too important, creative and insightful to simply discard. Better to see what happens if his program could be run in reverse. His collaborative parlor game of Acephale went just to the ridiculous brink of actually severing a head... and then they pulled back at the last moment. What exactly is the significance of that moment?
4. Start simply, intuition is my guide. Find the head. Rebuild it, grow it back. Reattach it. Remember the body entirely. Headhunting... in reverse.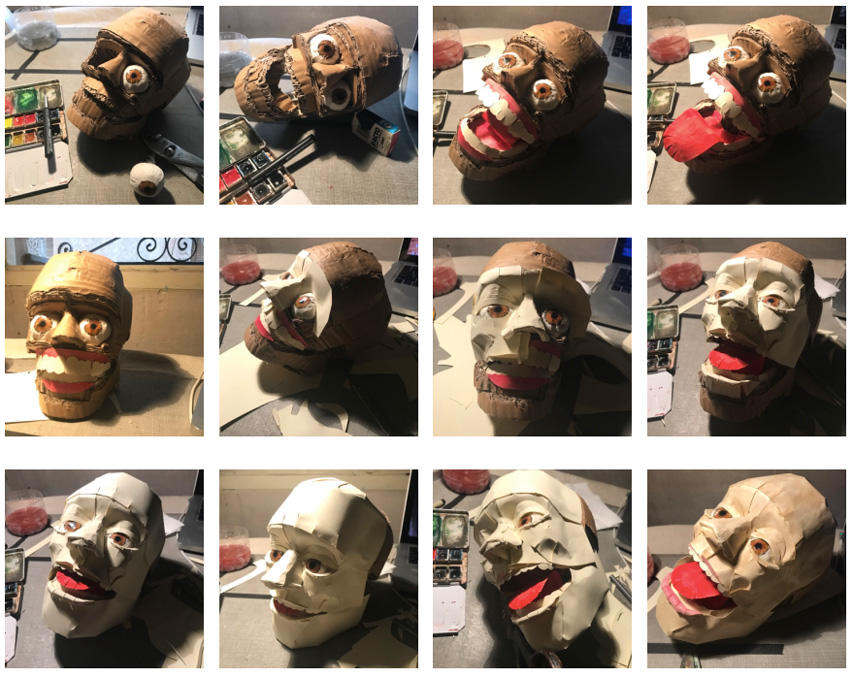 Posted by Dennis at
7:52 AM
|
Comments (0)