Gratitude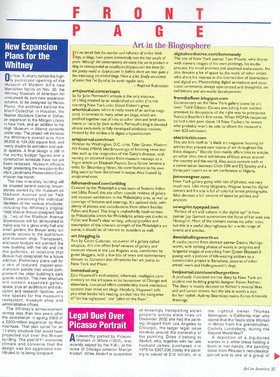 Thank you, Raphael Rubinstein and Art in America for the mention of this blog in the January 2005 issue.
If first heard of it in my beleagered comments section (afflicted as I am by spambots at this time) where reader Scott Wayne Indiana had tipped me off on the news. My friend Joanne Greenbaum sent me an email with the news and by that time, I resigned myself to hearing about it from afar, since Art mags are rare here in Tossa de Mar.
Then, I tuned into Tom Moody's site and there it all is! NEWSgrist has a scan I grabbed for the image above, thank you very much. And thanks to Tom Moody, who was kind enough to mention this blog at the recent Rhizome.org panel discussion on art blogs, wherein I fancy that Art in America gleened the info for the article.
And a very special thanks goes to my old friend Dean Terry who mechanically created this blog for me in the first place. Dean is an artist (we went to grad school together) teaching at the University of Texas at Dallas, he has his own blog, Alt7, the link is on the "Soup of Links" on the left margin of this blog.
Welcome, party people! This blog is chiefly a studio journal, a bibliography of interests that influence the things I make in various degrees, an exercise of curiosity, a phantom limb of painting....
Sorry about the infestation of spam in the comments section. I am wrangling with the technical stuff to eradicate them, difficult to do.
We've just returned from K?ln for the holidays and I have a backlog of blogposts to unleash in these pages. I visited Frances Scholz's studio and hung out with her significant other and my good friend Mark Von Schlegel at a cool bar in the city. That and many other posts to come!
UPDATE: Stephanie asks me, "Do you feel a special added pressure to blog after the article?", elbow in the ribs, laughing. I shrug, "I try to ignore it."
Posted by Dennis at December 29, 2004 9:49 AM