Ahora

I'm hanging out with Joel at his Press.
What's on the walls? A few shots below the fold...

Andr? B?tzer, leader of the kommando, the most well known of Guido's crew.
Andr? started with an image of a cat, and with each print he morphed it into an abstraction with the "cat-ness" still in the print kinda like the Cheshire Cat.
He busted it down fast... of course, it's good to have a farm of motifs corraled in your head. B?tzer will be here in ChinaTown in January. More to come.

Gerald Davis, litho plate, edition of 12. He caught the mistake of a double reverse and made a virtue out of it. Classic Black Dragon stuff (his gallery) and he will have a September show at John Connolly in NYC.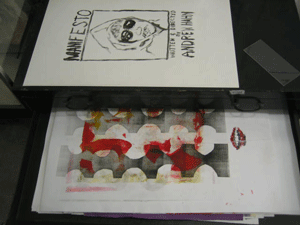 Andrew Hahn's with his poster for his video that will come out soon. I don't know what the video is about. Joel was about to show me a drawer full of a collaboration between Henry Taylor, Jason Meadows, and Andrew too. But, not now...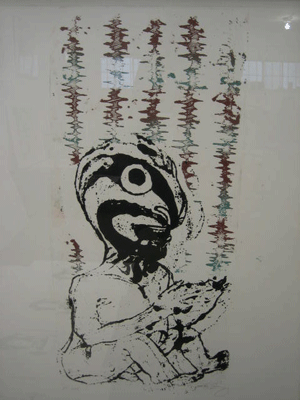 Dave Deany. Thsi was one of the first rpints they did together. Dave used all these different processes to draw what I think of as latter day Poe imagery... but as a stumbling searching into a printer's world, it turned out great. Dave is good to work with becasue he's intense and casual, he pushes the process in a good natured way.

Mario Carrera. Print in process. Mario will hand color this later. Five in the edition. He may make a big portfolio book of ten prints spanning a few years.
Posted by Dennis at December 29, 2005 10:23 PM