Noche Que No Acaba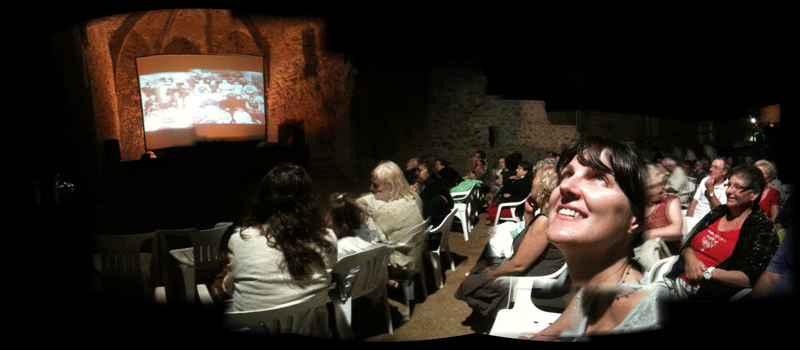 Stephanie and I went out tonight to watch a screening of
Noche Que No Acaba (2010)
at the esgl?sia de Sant Vicen?. I found a suitable description of the archeological site
here
:
The most often photographed building of the oldest part of the town, the Vila Vella is probably the ruin of the old Gothic esgl?sia de Sant Vicen?, which was built in the beginning of the XV centuries and was destroyed in the XIX centuries when Frenchmen stocked explosive in the church - which exploded. Later, the citizens of Tossa destroyed other parts in search of stones of the church they could use to construct or repair their houses. From the church esgl?sia de St. Vicen? remains only the apse with the sculpture of the saint patron, a part of the nave and the right transept as well as parts of the church tower.
Longtime readers of this blog will know that the remake of Pandora and the Flying Dutchman has been a preoccupation of mine for some time now. You can brush up here, here, here and here.
Synopsis of
Isaki Lacuesta's
film from IMDB:
Like so many other actors, Ava Gardner hated to watch her films. She said that the woman on the screen wasn't her. But all films tell two stories: the plot and the tale of the bodies filmed. This film narrates what happened between two images: a first shot of 'Pandora' and a first shot of 'Harem', the first and last movie filmed by the actress in Spain. Ava must certainly have thought that neither of these two women had anything in common with herself.
The following four YouTube clips will give you a feeling for the documentary:
Posted by Dennis at September 2, 2011 6:11 PM