Roger Dickes' "Another February Skies"

"Another February Skies", a group art exhibition at the Glendale Community College Art Gallery (GCC) opened February 3 and continues through March 10.
Anoka Faruqee, Mike McMillin, John Pearson and Rebecca Ripple are the Los Angeles-based artists. Their works in this exhibition include large format prints by Pearson, a monumental-scale sculpture by Ripple, paintings by Faruqee and sculptures by McMillin.
***

"Axe wielding ghosts."
That's how Roger Dickes aka "Heavyhandz "referred to the top dogs of the art world dialog. We spent the afternoon talking about his work and the arc that led him from an aborted medical degree through art school to his tenured position at GCC and his stewardship of the art gallery there, and his ongoing visual art/musical art studio practice. Roger had gone to school at Art Center and I asked him about the faculty, about the reality of that school's ambition to match and exceed the reputation CalArts had for high octane theory. I mentioned my recent conversation with Jacques De Beaufort, how Jacques took issue with my identification of the powers that be and the label called "postmodernism" I used to lasso them altogether. "That term is meaningless now, Dennis. Art is bigger than that. This is the lesson of postmodernism."
And yet the label persists. How else are we supposed to get a handle on it?
Jacques point was that those who would be our artworld's intelligencia are gone, their arguments have evaporated and while their professional lives have not changed substantially either in the institutions or in the studio. Thier dominance had been superceded... by the global art market, among other things. Not that this is a good thing in itself mind you, one is as vacuous as the other.
Well, what about that visiting artist in school (CalArts, in Jacques' case) who demanded that you take on a political position in your work (and not just any political position, mind you), else your work is meaningless? Jacques' response: "Who cares about his work today, anyway?" I mentioned the recently published "Journal of Aesthetics and Protest" and some thoughts I've been nursing concerning it. Where are they on Jacques' relevancy meter? A shrug. October magazine and its' legacy? Nada. The list went on.
It was Roger's characterization that put a face on it for me. "Axe wielding ghosts."
We must have believed in ghosts when I was in grad school in the very beginning of the 90's. The axes seemed to draw professional blood back then alright, as spectral as our livelihood might be. Was I fighting phantoms of my youth, punching the thin air?
My take on the history immediately after I left school was that in the 90's young artists found success by not taking on thier elders. The Oedipal turn was a no-go. After a decade of continental theory, the mandate to slog through the limited set called intellectual authority evaporated and the vapors of P.C.'d multiculturalism and identity politics fueled the art debate after the fall of the Berlin Wall. Painting was going to come back but it couldn't come back as it was before the postmodern turn: skillz had to be disavowed, a kind of childlike quality must be adopted, naivet? was a plus... at least in LA. Above all, one must not use the word "postmodern". "Nobody uses that word anymore."
But how can you turn the page if you can't attach a name for the chief animating philosophy of the era that needs to be critiqued?
As I like to say: "If you liked high school, you'll love the artworld." Not many people are able to be chosen into the elite class of influential VIP's as they process through grad school, and I propose that this is good fortune in disguise. What I am suggesting is that all of us who were not the annointed in our early years had to craft our own way forward outside of the officially sanctioned discourse... we had to engineer the rudiments of another one, each in our own way. For Jacques, I would say that he had made his break by finding a better authority for the ego erasing track in the anti-modern, postmodern argument: Eastern philosophy. For Roger, I was fortunate in that studio visit to see one of his earliest works from grad school: a text piece where he was able to pry open a slim crack in the edifice and make his escape.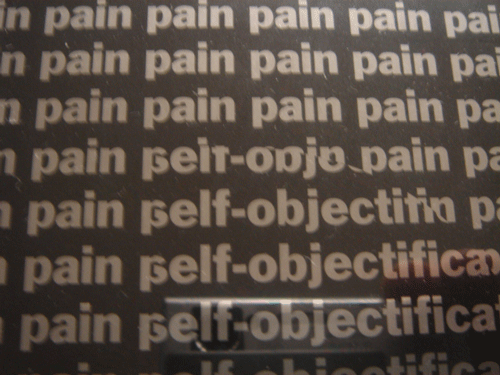 Roger's pre-med start in education was on a psychology track. His father and grandfather worked in that field. We talked about his Judaic heritage (schooled but ultimately secular) and I floated my theory of the close read and the Torah. The image above was a classic artwork of its' time, textual with psycho/philosophical intentions laced throughout. A closer read reveals an invasion of text reading "self objectification" into a field of text reading "pain", and standing back one can just barely read the word "suicide" across seven framed panels. What I focused on (and what I tried to shoot in the foto above) was the discrepancy, that barely perceptible fracture in the facture, a crack in the code from which I believe/project that Roger made his escape from prevailing orthodoxy. I see this piece as Roger's middle finger salute, truth to power.
Everything he did afterward is a departure as far as I can see.

Chuck Close. I was a few years out of school when I realized that my own point of departure was Ed Ruscha... I didn't consciously calculate it this way, but in my strategy of sandwiching image and text, I worked the dynamics of the two aspects in sympathy and not one against the other. For the paintings I made out of school ('91-'95), I treated the text in formal terms, reversing and mashing them, and ultimately relating them to the imagistic substrate below and visa versa. In other words, I reversed the dynamics of the icon of the era I was critical of. Upon seeing Roger's point of departure in his Chuck painting, I felt I was seeing something similar.

Roger had jettisoned the organizing grid that was central to the C.Close project. In the master's work (C.C.), I tend to see tiny lyrical free form abstract paintings in each little grid. Close can get super freaky and set the freak show in tension with the grid: everyone gets their gestalted image and a chance to lose themselves in a sea of carefree form and color too.

Roger worked the Closian system front to back. Instead of free form freakiness in each cell, Roger systematized it with geometry. Instead of a recognizable image for a gestalt, free form abstraction and no gestalt.
But what happens when you lose the grid?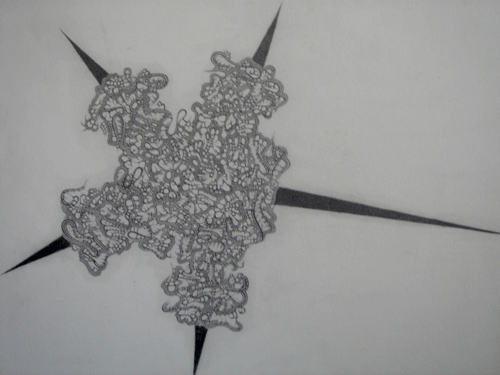 Roger has been mixing music along the way:

Hi Everyone -

Please join me in celebration of my first 12" vinyl release - you
can hear samples if you link here.

The party is at the Vanguard in Hollywood on Wednesday, February 28th, where advanced audio playback will be delivered by me and the
accomplished NY disco DJ/Producer Brennan Green, along with
resident DJ's and label owners Lillyanne and Hawkeye. Forget about
Thursday and come dance the night away with us!

For all the information about the event, visit Headinghome Recordings.

Some important info about the event:
Goes from 9.30pm - 2.30am
The Vanguard - 6021 Hollywood Bl., Hollywood
RSVP to a $5.00 list to this address headinghomersvp@yahoo.com
The $5.00 list closes at 11pm, so get there early!

(Info about Brennan Green.)

-Roger

This
is what happens, it seems.
UPDATE:
Here's a follow up, emails between Roger and I:

Dennis -

Very intense, reading your blog entry - to expose my naked self in my work, then to stand exposed before an imaginary public, also through your words. I should have showered and shaved...

Thanks and !ouch! for the Johanna Drucker passage, I have some more thoughts about our discussion:

The redeeming point of anti-expressionistic art could only have been to rail against an unrestrained, irresponsible, self-worshiping egotism. That and/or to "stake out" "new territory" linked to immediate historical context. But to make work that is precisely not about your experience is a poor (ok, temporary) solution to the problem. Better to labor toward a psychological neutrality (humility, colloquially) in the face of whatever self-expressions you make. It's impossible to get there, ugly if you don't try.

I didn't get to say that I think we are past postmodernity/ism. I think of modernism as the fetish of systematization, postmodernity as a zealous recombination. Both phases of cultural production embraced the "new" as a primary goal, with the consequences thereof left to future generations. Which is why we are now in the pre-apocalypse, which can only be transformed by the technological singularity. It could be that the apocalypse and the singularity are the same thing.

What a time to flirt with Warhol's shadow!

-Roger
I think Roger meant that apocalypse/singularity line with a winky emoticon ;-).
Wanting to blog his response, I wrote back:

Hey Roger:

I did fly my own freak flag a bit in that post, railing against a postmodernity that railed against a modernism that railed against a classicism that railed against a Byzantinism that railed against a... I hope I didn't project too much of my agenda into my rendition of our conversation/ your ideas/ your work. My point was that my/your time in grad school was at the zenith of the postmodern arc and the salient activity for those of us living across the crux betwixt the 20th and 21st centuries is to overhaul and sort out the difference between the two. I think I see this in action in your work, and I hope you see it as the compliment it was intended to be.

I like your admonition: "But to make work that is precisely not about your experience is a poor (ok, temporary) solution to the problem.", it reminds me of what Charlie Finch recently wrote: "The antidote? Take pencil and paper and draw a friend." Sharp stuff. My own formulation of what it means to be modern is: to reconcile the things you make with the life you are living. Thus the modern is different from modernism in that the latter is one step removed from experience/the-life-lived. The problem is that the step-away always creeps up on us, an inevitable part of the human condition. Consequent to this formulation, the job of an artist is to close that step as much as possible, to break the ossification and let the real bubble up even as it crusts up again. What tragic beauty it is to be all too human!

I'd like to append this exchange onto the blogpost, with your permission of course. I'm happy and eager to edit the text and any suggestions are entirely welcome. That's the contradictory beauty of the self published studio diary: even though it is essentially an eternal first draft, it's one that can be revised endlessly!

Una brazos

-Dennis
The last bounce of the email:
I agree with the distinction between modernism and the modern, and the way you define the task at hand there. Charlie Finch's little salvo is what my dj peeps would call a "straight bust". Make sure to go thru the bust gallery...
Posted by Dennis at
11:50 PM
|
Comments (0)