April 18, 2019
Cherub
Posted by Dennis at
7:22 PM
|
Comments (0)
Crysalis

Fellow NYC artist Teri Hackett asked me to be part of a group show titled "Divine Interventions" at Sag Harbor Christ Church this summer. She pitched the idea at an opening in the LES, my solo show was recently de-installed and I was thinking at that time about how to incorporate the travel frame into a subsequent "painting" (the scare quotes indicating my Ryman move of expanding the plasticity from paint to the entire support) into my upcoming work. I immediately conjured an image of a lotus-like construction that incorporates a collection of cardboard font-stamps that I had used ten years ago in my paintings. I collected them in my studio, unwilling to toss them away.
It took a couple of weeks to pull it together. So far, so good.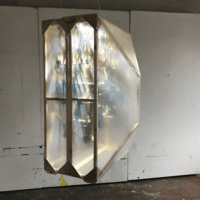 Posted by Dennis at
7:06 PM
|
Comments (0)
¿Quien es El Patrón?

Pattern. "Patrón" or "modelo" in castellano. I'm looking for a way forward in the method that I've relied on for the past five years of using masking in painting. Lines, curves, leaves, vines, nature, text... I wanted to shake it up, find another path in this camino. This puts the image up front, as opposed to arriving at an image after taking on a blank canvas, the traditional approach, each act circumscribing the set of possible subsequent acts, a narrowing grind resulting into the final manifesting image. Not so with the mask. In spanish, patrón also means an employer, a boss... which is also commands the image in painting. Paint goes down unconstrained until the time comes to lift the mask, where facture everywhere is sheared by the imaged edge.
Like a boss.
The thing is, this painting didn't dazzle me when I finished it. So, it's not finished. Therefore, the fragments of images of it in this entry. Two possibilities: scrape it off and start over, or place it to the side and add elements to it until it shines. Choosing the latter, since there's much of it that I like. Let's see if accretions will redeem it. I estimate that it'll take a month or so... until I go to Spain for the summer.
Posted by Dennis at
3:53 PM
|
Comments (0)
April 4, 2019
Review Panel
This week, I attended artcritical's Review Panel, hosted by editor/publisher David Cohen and paneled by Nickolas Papas, Martha Schwendener and Alexi Worth.
As David said in closing the discussion, "The four exhibitions revolve around the visual and conceptual...", which indeed they did.
Hannah Black: Beginning, End, None
Performance Space New York
Aaron Gilbert: Psychic Novellas
Lyles & King
David Humphrey: New Paintings and Sculpture
Fredericks & Freiser
Charles LeDray: American Standard
Peter Freeman, Inc.
I took notes.
Posted by Dennis at
10:16 PM
|
Comments (0)