MESLER&HUG

This is the beginning of the install (Thursday nite) of Uri Aran and Ara Dymon's recent work at the inaugural show of MESLER&HUG Gallery at the former Daniel Hug Gallery space in the Bernard Street cul-de-sac of Los Angeles' ChinaTown.
...from the press release:

Uri Aran lives and works in New York City. This will be his first time showing in Los Angeles. Ara Dymond was born in Honolulu, Hawaii. He was raised in New York City, where he still lives. This will be his first time showing in Los Angeles.
I met these guys, both super interesting each in their own way. Ara's sculpture is pretty damn good... the words "casually rigorous" come to mind. In sculpture, I see a divide between the juxtapose of assemblage and the kneaded hand-forming one might see in a Brancusi or Rodin or Michaelangelo's late period "Slaves" series. To my mind, Ara seems to split that difference.
I haven't seen Uri's work yet (He's installing five video monitors on the walls and a projector in the small room in back), but Iv'e heard that one of them involves weeping and caressing a huge dog in the lap. (!) I expect them to be intense.
See you there?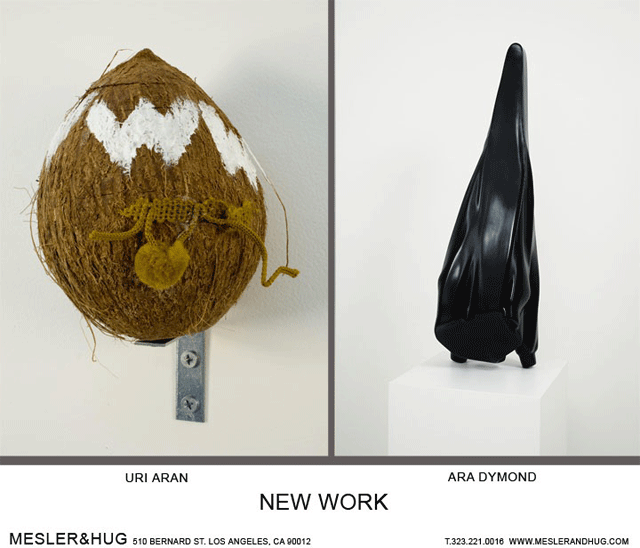 Posted by Dennis at
7:44 AM
|
Comments (0)