Last Weekend

It was in the wee hours of the morning that Kiko saw that I had my camera out. He pulled up next to Joan and said to him: "Watch, you will be on the web now!"
So be it.
(Joan and Monica own the restaurant "Es Congre" and Bar San Antoni here in Tossa.)
Here were the order of events for last Saturday, a slice of Tossa life:

-Lunch in a country restaurant with Ramon and his family: wife Asumpta, daughters Alba and Estelle and Estelle's boyfriend Nacho.
-Siesta time 'cause I know how long the night will last.
-Met Kiko at Bar Josep, cortado and water
-Dinner at Can soms (whiich has another name) cod in garlic sauce and butttifara in string beans, muy bien.
-whisky at Bar Savoy, hooked up with Ramon (rare to see him about), who was going to the wedding party
-after the drink, we went with Ramon to Can Barraca, a wedding party, (a lawyer from Barcelona)
-rendezvous at Nacho and Leslie's place, drinks, meet Xerlo and Maite.
-San Antoni with huge Knocandos.. I sip and sip yackity yack, wiggle to "Just a Gigolo"


-Nacho and Leslie's place, a CocaCola and I got my ears chewed off by the woman who owns a corner shop and had that kickin' party we saw last summer on the terrace near the castle.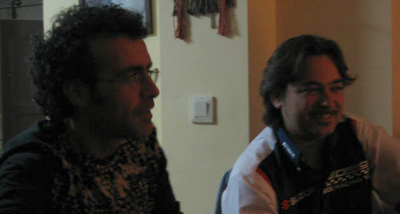 -Bed by five
Posted by Dennis at
6:10 PM
|
Comments (0)