Day and Night

By day, I'm wrangling the house. We have until the end of the month of November to move in and there's a studio to refit that will take some effort too. Some of the hardest work is to figure out the echelon of tasks: when do I bring in the tree people, the yard clean up guys, the floor people, when do I pull the trigger on tiling the bathroom, when do I start prepping the interior for painting (should I do that myself or should we find a house painter- we have to keep a lid on the overall expenses somehow), and should I do the same with the shingles too?
There are things I have to do in the yard myself because I don't want to trust contractors to be as sensitive as I would be as to which and what to cut and prune. There had been little of that done while we were away, so now the yard is a jungle. There is also a significant amount of debris left by our former tenants and inside the house, there is a nasty crust of grime to scrub off... all this before I have to prep the interior for painting.

(PreChop)
Meanwhile, I'm calling the trades for bids. We have a row of eucalyptus trees that were planted at our East property line as in a wind break. They do provide an early morning shade that keep our yard cool and wet as the sun swings the West and finally shines after noon. But our houses are too close to them and they grow bushy and thick, shaggy and dirty. I don't mind that the trees are a squirrel highway, I kind of like hearing them scamper like monkeys overhead. But finally we don't want to merge with nature and blur the boundary between animal and human habitats. All of our overgrowth threatens to do just that. Therefore it is time to carve nature back a bit.

(PostChop)
Tree people are the VIP's of the jardinero world, it seems to me. They are so in demmand so they don't always return telephone calls. They tend to sort into those who sculpt and those who chop. Sculptors are the sesitivos, they look into the soul of the tree, they try to rebalance the weight of the trunk and limbs, they want to thin out the mass so that the wind blows thru without hazard, they want to see the tree in its' natural elegant beauty.
Choppers chop and go. Choppers sever limbs and trunks mercilessly but the trouble is (beyond the aesthetic violation) that the trees sprout new limbs that tend to grow at right angles, projecting out over the house and yard. Eventually they are weak at the joint and with time they will likely break and fall. Finally, it's just plain wrong.
And the floor. We recieved two estimates high and low. Since its between four and five figures, the sticker shock prompted me to choose the lower priced option. The floor people are lightning fast and by Friday, they had two guys delivering the oak to the house so that it can acclimate prior to installation. We live in a hilly part of LA, and our house was built on a street that was too steep for cars, so our street is a cascade of stairs. A stair street. The upside: we live without cars, surrounded by vegetation blowing gently in the omnipresent breeze, truely this is why this part of town is called Elysian Heights. The downside: everything gets hauled in by hand, goodies in and trash out... fifty steps up to the car and more thatn eighty down to the street below. People tend to remark how lucky we are that we have a natural exercise option with the stairs... uh, yea... exercise, right.

So as the flooring guys dropped off the last box of prefinished blond oak, I began to feel terrible. The place will look like a high school gymnasium! I tried to reconceptualize it but it was all wrong. I flipped open my cell phone and made the call: "I'm so sorry, but I have second thoughts about this." These people are muy exigente (fastidiously professional) so I wasn't suprised when I heard that there was no problem, that they would send their people back to pick up the load. I decide to work off my culpabilty by shouldering the load back up the stairs. Forty five boxes of solid wood, each weighing about as much as a sack of concrete (for those of you who haven't hefted such a sack, it feels about a hundred pounds, but it was probably about seventy five or so), this weight was cantilevered from the shoulder about four feet at each end, tricky to maneuver. The whole fiasco ate the day. And toward the end, I conjured memories of boot camp and the movie "The Hill" (a highly recommended rental, folks).

(image source)
Grunt, pant, wheeze.

By night, ChinaTown. I have no energy left to refit the studio, that will have to wait until the house is in hand. I'm hoping that when the floors are being installed, I can swing over and wrestle with the ChinaTown space. But ChinaTown is still a wealth of an art community. I get to hang out and talk... about lots of stuff, but mostly about art of course.
So much of what is said is so rich and so much of it would want to recount for you all. But the trouble is that the act of trying to preserve the moment tends to destroy it too. Forget scribbling notes, and even if it were as simple as reaching over to switch on a tape recorder, that too would kill the open mood with self consciousness. So many times, I had reached for a camera, onlly to stop the momentum as the people around me focused on the prospect of being featured in this blog. Deers, headlights.
(I'm still working on using the cell phone camera to steal an image from the flow. Expect more of this later as I get the system figured out.)
Oh, but so much good stuff has trafficked already in this first week back. Late nights, talking into the wee hours, living like Spanairds, they are.

In Phil's studio, I get to see his recent brace of work, new paintings using canvas itself in a painterly manner, collaging cotton duck shards in a way that reminds me of Ryman in that the support is brought to the surface as the site and substance of painting too. Phil wanted to make work that would arrest, that would have an definite presence, that would command our attention (I don't know if he would agree to these descriptive terms)... and I thought, "...don't we all?", but Phil meant this in a personal achievement way... as well as in a specific datum of realizatioin as well. I ask for clarification. He recalled Stella's early sixties work, how it was a moment when an artist had realized a work of such presence and power that it had eclipsed everything he would do subsequently. I first wondered why anyone would want to blow a wad like that, then I wondered if indeed he had actually prematurely ejaculated realized a bildungsroman?
Personally, I view Stella's achievement as a watershed, a decisive turn away from Abstract Expressionism and as a harbinger of minimalism in that they are reduced paintings-as-objects and conceptualism in that those early paintings were a formulation and execution of a set of routines (that could be executed by others). It was nice to reconsider my assumptions... I'm still turning it over in my head. I wonder how other artists think of him, if there are other variations of how they would interpret Stella's early work?
(The following pics were taken after the late night chat sessions.)

The other night, I visited Bart's studio, a spacious palace of a studio on Chung King Road, across from his gallery, Black Dragon Society. The rents here have shot up and the prices are squeezing us (artists), but Bart took the gamble in taking on the space. He's painting larger, like Phil. Both of these guys could paint giagantic, bigger paintings, no problem.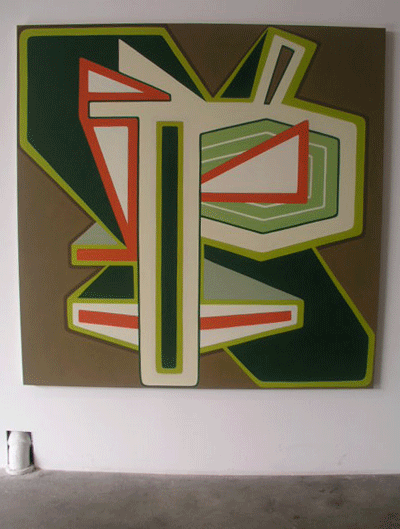 His work bears on design in that he prepares the paintings first as drawings. The drawings are provisional as design in terms of line and field and color are reevaluated at every turn. I forget what word he used to describe each compostion, but I immediately thought of them as figurations, images in arrangements that change with every new context. For example, check out these two paintings here and closer, here. See what I mean?

Across the street, I saw Monique van Genderen's show at the Happy Lion Gallery. She popped into Bart's studio as we talked, I didn't want to scare her away with camera, so no pic of her here. She was headed out to the Wexner Center where she has a few murals to install as they complete the refurbishment of that Eisenman icon of deconstructive architecture.

I should have shot the other side. Pues...

I can relate to her work in that I dealt in similar strategies in my glaze paintings so many years ago. Xacto blades, color films, sheets of transparent materials. Her work has a much lighter hand than mine did and I wished I had moved into what seems to be water color kind of sensibilities as she did. It seems to be a great avenue for her. Maybe you can see this in this detail and this one too.

Here is a shot of more recent work from Monique hanging in the back room of the gallery. A furtive pic. It had to be oblique because I think I was freaking out the gallerist, Lexi at the time.
Posted by Dennis at
8:14 PM
|
Comments (0)